Dear TCF Family,
Thank you for your overwhelming response to TCF's COVID-19 Response Appeal.
Launched in April 2020 to battle the devastating impact of COVID-19, the appeal has raised in excess of PKR 250 million from supporters across the world so far. These funds have enabled our committed volunteers and staff members to provide timely and essential relief to more than 45,000 households in 250 vulnerable communities all over Pakistan. Thousands more are being helped every day. We are also providing 20,000 urgently needed Personal Protective Equipment (PPE) kits to medical facilities nationwide. Your support has also helped us in our efforts to engage and continue the learning process of TCF students and millions of other children through 'Ilm ka Aangan' – our ground-breaking edutainment-focused TV programme and magazine.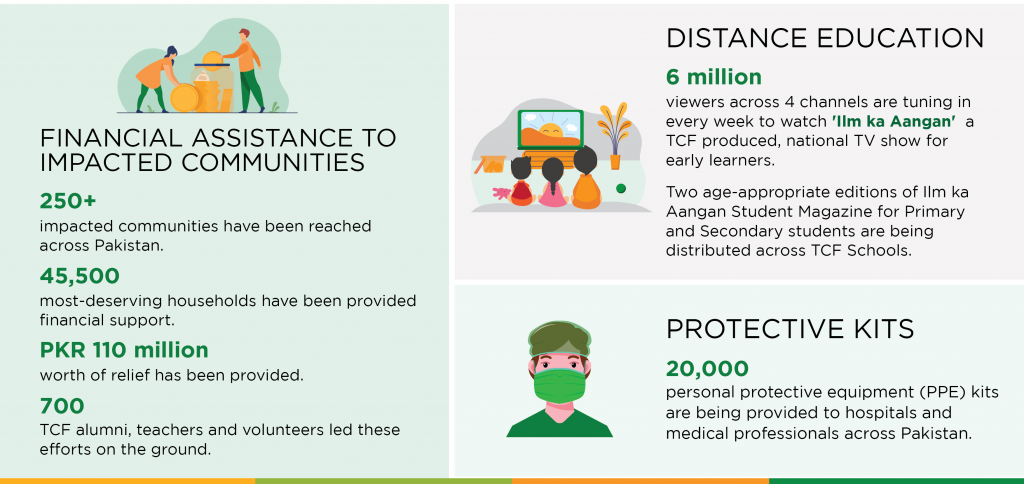 Your generosity has made this critical and timely response to an unprecedented crisis possible.
As the impact of the COVID-19 crisis spreads across the country, our response to this challenge is also evolving. With the lockdown easing, we will increase our focus on supporting our frontline healthcare workers and sustaining the learning process for children constrained to stay at home. However, sustaining our programs and ensuring that our students and teachers have the resources they need to succeed when they return to the classroom remains our primary responsibility. TCF is therefore suspending the allocation of 20% of support donations towards the COVID-19 Response Appeal. We will, of course, still welcome all your donations towards the COVID-19 Response Appeal and our efforts to mitigate the impact of this crisis will continue with the same momentum.
Thank you for placing your trust and confidence in our work. We look forward to the day our children return to school and resume learning with a renewed vigour.
Wishing you health and safety,
Syed Asaad Ayub Ahmad
President & CEO