Having crossed the 1000 school units milestone, TCF has now launched its Government Schools Programme (GSP) to enter into Public Private Partnership (PPP) with the provincial governments in order to realise its goal for further expansion and outreach. TCF intends to utilise its experience and professional expertise to effectively manage the adopted schools.
TCF has formalised an agreement with the Punjab Education Foundation (PEF) and entered into a PPP arrangement for 252 adopted schools across 6 districts of the province. In Sindh, TCF acquired 2 schools through the Sindh Education Foundation (SEF) and 1 through the Pakistan Railways. Additionally, TCF also assumed management of 5 schools in Khyber Pakhtunkhwa.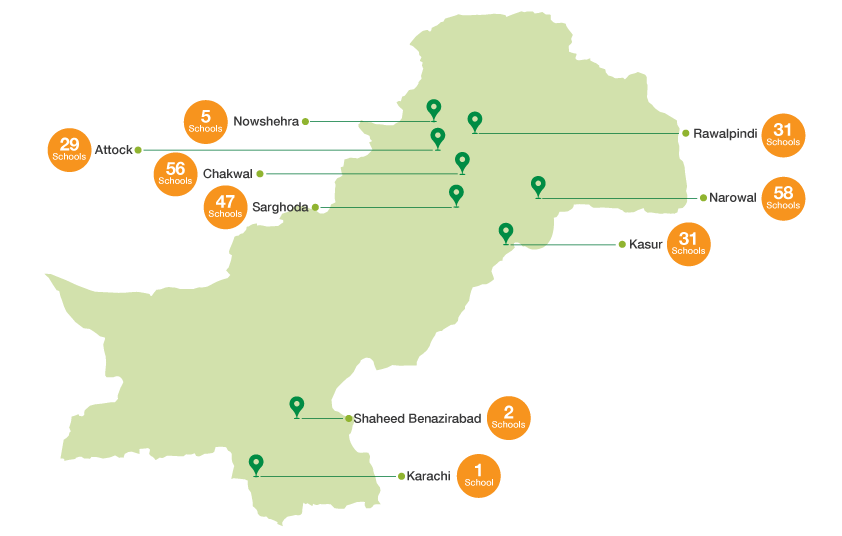 When we took over 260 schools in Punjab the schools were in very poor condition
A baseline study revealed severe shortcomings
We immediately went to work on improving these schools
Our efforts resulted in a dramatic increase in enrollment
The educational crisis we face is enormous and complex, but we at TCF believe that it remains a solvable problem, and one that we must address if we are to unleash our potential as a nation. Our resolve must be as stubborn and unyielding as the challenge we confront.